Published: Friday, March 27, 2020, 8:29 AM
Where do I file for benefits?
We recommend filing for benefits online at www.ides.illinois.gov.
If you have any questions, contact IDES Claimant Services at (800) 244-5631.
What information do I need to file for benefits?
Your driver's license or state ID.
Social Security number and name as it appears on your Social Security card.
If you are claiming your spouse or child as a dependent, the social security number, date(s) of birth and name(s) of dependent(s).
The name of all employers you worked for in the last 18 months; the beginning and ending dates of employment for these employers; the mailing address of each employer; phone number and separation reason for each employer.
If you are not a U.S. citizen, your Alien Registration information.
How much in benefits will I receive and how long does it last?
Your benefit amount is based on your recent income. The maximum benefit amount is $484 per week. Those who have a qualifying dependent receive an additional amount. Benefits are paid for up to 26 weeks. You will be notified if the federal government approves you for an extension.
When do I certify for benefits?
After filing your claim for unemployment insurance benefits, you will receive a notice titled "UI Finding". This notice will indicate your first certification date, which is approximately 2 weeks from the date you submit your claim. You will be required to certify your eligibility to receive payment on the date indicated on the notice and every two weeks thereafter in order to receive payment.
How do I certify for benefits?
The best way to certify for benefits is by going online to www.ides.illinois.gov/certify. You can also certify by calling (312) 338-4337.
When do I receive payment and how do I receive it?
After completing your certification and your responses are approved, benefits are received within 2-3 business days. You will be issued a debit card automatically. You may, however, sign up for direct deposit when you file for benefits, or at any point thereafter.
What are Rapid Response Services?
Rapid Response Services are available to employers who are planning or have gone through a permanent closure or mass layoff, or a natural or other disaster, that results in mass job dislocation. The State Dislocated Worker Unit coordinates with employers to provide information to workers and employers about employment and retraining services designed to help participants retain employment when feasible, or obtain re-employment as soon as possible. For more information, visit Rapid Response Services for Businesses or contact your local Illinois workNet Center.
What actions are being taken to address the high volume of calls at IDES claims services line?
IDES hired additional staff and expanded their business hours to vulture the extremely high volume of calls. The caller is advised to try their call again if they get a busy signal. When the call gets through, there will be an average wait of 20-30 minutes before they speak to a specialist.
If a business decides to shut down voluntarily before mandated, will staff be able to qualify for unemployment?
If a business decides to shut down, employees would be potentially eligible for benefits and are advised to open a claim as soon as possible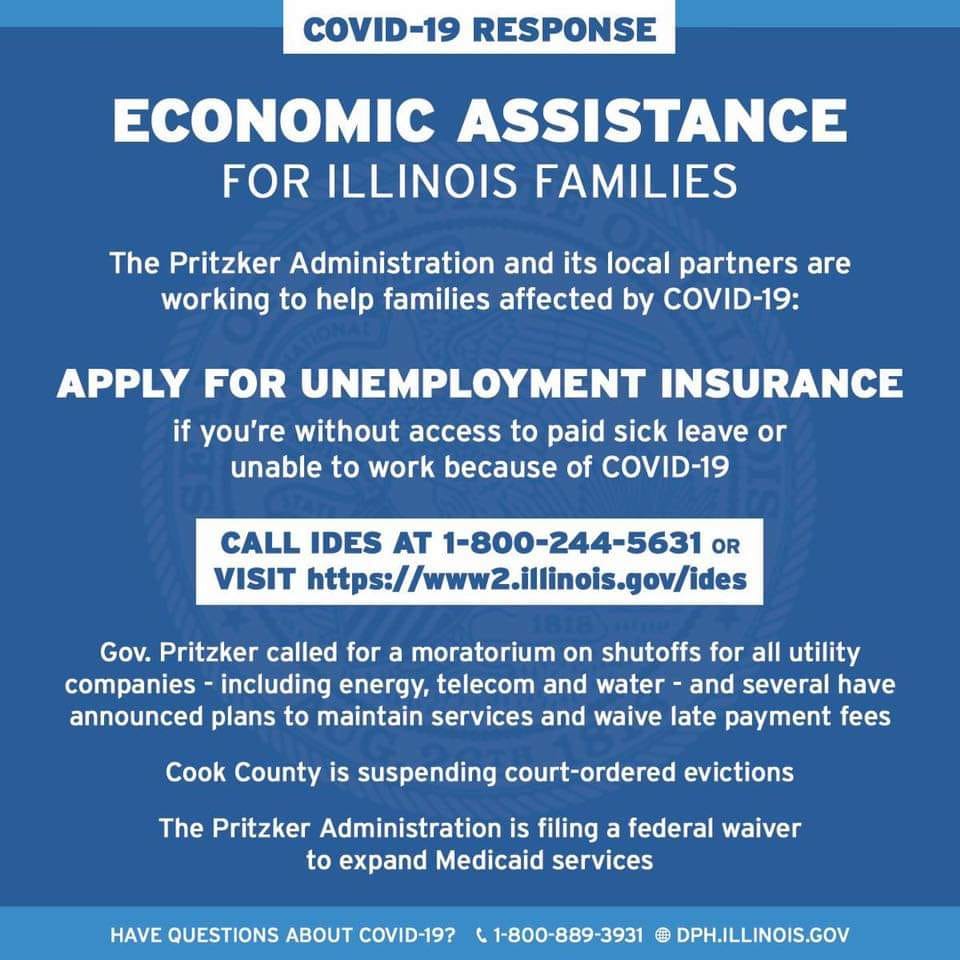 Category: Latest