Published: Wednesday, April 8, 2015, 11:27 AM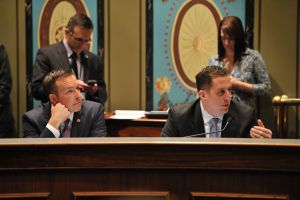 TINLEY PARK – Legislation proposed by State Senator Michael Hastings (D-Tinley Park) to extend the statute of limitations for crimes committed in the course of committing a sexual offense passed the Illinois Senate with unanimous support on Thursday."This bill is a step in the right direction to ensure that those who commit sexual offenses are punished for all of their associated crimes," Hastings said. "With the bill having passed with unanimous bi-partisan support in the Senate, I am very confident it will draw similar support in the House."
Hastings' proposal gives prosecutors more time to charge an individual for committing armed robbery, home invasion, kidnapping or aggravated kidnapping in the course of committing a sexual offense.
Under current law, an offender can only be prosecuted for one of those crimes within 3 years of the offense. Senator Hastings' bill increases the time period for prosecuting those crimes to 10 years.
Moreover, it provides that if the victim of the sexual offense is under 18 at the time of the offense the offender may be prosecuted at any time for additional crimes committed during the act.
The bill passed the Senate by a 51-0 vote and now goes to the House for consideration.
Category: Latest