Published: Thursday, January 28, 2021, 3:25 PM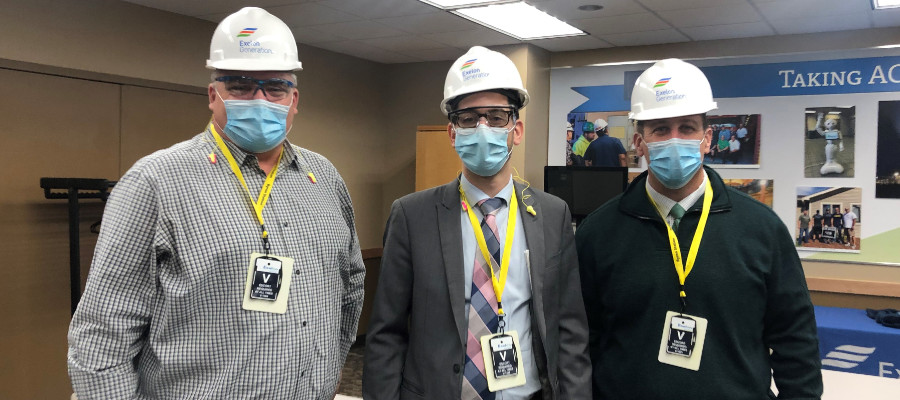 BYRON – Continuing a statewide fact finding mission, State Senator Michael E. Hastings (D-Frankfort) traveled to Byron, Illinois to meet with local leaders and plant employees to discuss future prospects for Illinois' clean energy infrastructure today.

"As the spring session looms and our legislative priorities come into focus, major questions about the future of our state's clean energy infrastructure need to be asked," said Hastings, who serves as chair of the Senate Public Utilities and Energy Committee. "How do we invest in our clean energy future and preserve the good-paying jobs in our communities? I have traveled to power plants in every corner of our state in search of these answers, and I am privileged to have been given the opportunity to meet with the folks in Byron today as a part of that mission."
Featuring iconic twin cooling towers overlooking the Rock River Valley, the Byron Generating Station's two nuclear reactors supply power to 2.3 million homes each year. For nearly 30 years this power plant has provided thousands of good-paying jobs and generated billions of dollars in economic support, including about $38 million in taxes annually for schools, roads and other public services.
"Working families in Northern Illinois have depended on power plant jobs as a path to the middle class for decades. We need to do everything we can to keep the power plant in Byron open," Rockford Mayor Tom McNamara said. "The number of jobs and the ancillary economic impact provided by the plant is essential for growth to continue in Rockford and the surrounding communities."
Hastings expects major energy legislation to be considered during the spring legislative session.
Category: Featured Stories